Fitz And The Tantrums

- Pickin up the pieces
Chronique CD album (36.20)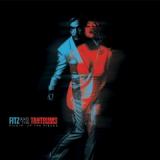 Un album sans guitare, plutôt bon, c'est possible avec Fitz and the Tantrums, groupe originaire de L.A. et incluant un leader franco-américain, et leur Puckin up the pieces épicé par des cuivres et un Hammond.
Dansant et racé, ce disque se démarque de bon nombres de sorties actuelles, sur le plan stylistique, et trouve ses sources dans le Detroit le plus 60's qui soit. Il n'invente rien, mais sert une soul bien troussée, entraînante et mâtinée d'élans funky, déclinée selon des rythmes variés. Appuyée sur "MoneyGrabber", plus "cool" sur l'introductif "Breakin' the chains of love", la musique du groupe le distingue et se veut, en plus de se montrer attrayante, sobre et sans faux-semblant, débarassée de tout apparat superflu.
Les voix entrecroisées ("News 4U") amènent un plus et la "coolitude" imposée ça et là ("Rich girls") offfre elle aussi de bons moments, combinée à des plages plus cadencées. Seul les accents presque reggae de "Winds of change" dénotent dans l'ensemble, le côté mélo de "Tighter" l'imitant en cela; mais au final, l'opus s'avère être de belle facture. Sans pour autant créer, Fitz and the Tantrums œuvre, dans son créneau, avec brio, et assure donc un certain plaisir à l'écoute.