Style musical :
Fastcore/Powerviolence
Année :
2016
Tracklist :
1.That's not because you wear a black coat and tatoos that you're an anarchist
2. Die Charlie die
3.Take out your knife
4. Hang your boss
5. Animal liberation
6. ABC (Anarchist Black Cross)
7. L'hymne des femmes
8. ...
9. Fuck you and your manhood
Label :
Autoprod
Chroniques :
I Believe I Can Fight (2016)
Dans le même style :
Oh quel exercice douloureux. Dire de vilaines choses sur un chti groupe français.
Oui car d'habitude, je suis plutôt amateur du truc : le DIY, le chant féminin et le powerfastcore.
Il est indubitable que le genre connaît un boum en ce moment, dans l'hexagone comme ailleurs. C'est p't-être pour ça alors, que Jackson Fight de Le Mans a du mal à passer.
Pourtant je l'ai écouté la giclée, au jeu de mot parfait. Sa durée fugace est faite pour les fainéants comme moi.
Le hic est que la prod maison ne sert pas Jackson Fight. Trop étouffée, trop salopée. C'est le chant qui en pâtit le plus. Anna a beau se péter la gorge, ses glapissements saturés lassent vite.
L'absence de basse ne supporte pas de demi mesure, non plus, concernant le son de la gueuse à six cordes. Et là, rien de sexy. La gratte, parfois d'une dissonance bienvenue, se paume au milieu du bouzin quand le batteur choppent les boules. C'est à dire tout le temps.
Le combo respecte pourtant tous les codes du genre : des morceaux ultra brutaux aux accélérations plus rapides que les saillis d'un lapin nain modèle panaché tacheté. La démarche du trio est forcément sincère, rapport à ses paroles mais tombe à l'eau par une forme trop underground ou je m'en foutiste. Le doute persiste, pour moi.
Là où un Lovgun perfore et un Harm Done défonce, Jackson Fight ne procure qu'une levée de sourcil polie.
Commentaires

cglaume le 16/01/2017 à 12:17:09
Ouaip, dommage: le nom et le titre donnaient envie d'aimer le groupe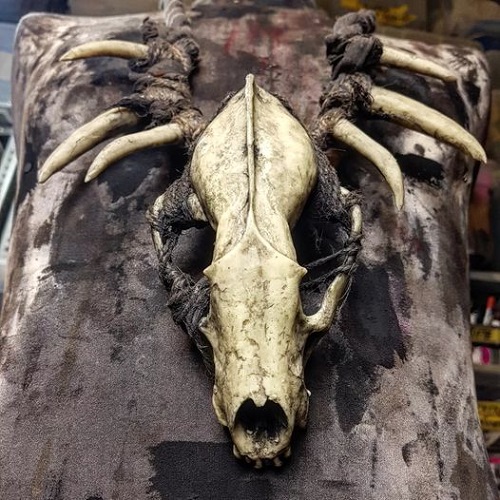 Crom-Cruach le 16/01/2017 à 12:26:47
Ben ouais, le genre d'humour qui me fait frétiller d'habitude. C'est pas mauvais, en toute subjectivité, mais ça manque de gros coups de pelle en pleine tronche.
Ajouter un commentaire
Pseudo : e-mail :
Commentaire :
NOTE : Vos commentaires sont soumis à la lecture et à l'approbation des modérateurs. S'ils trouvent que votre message n'a pas à apparaitre ici, il sera supprimé.