écouter "Damaged"
Style musical :
Grindcore crust
Année :
2017
Tracklist :
01 – Out From The Ashes
02 – Escalate Into Madness
03 – Killed It
04 – Corpse Slayer
05 – Damaged
06 – Fuck Power Violence
07 – Intimidator
08 – Devotion
09 – Human Default – Suck At Life
10 – Everythings Vicious
11 – Cowards To Hate
12 – Party In Hell
13 – Traumatized
14 – Outlaw Punks
15 – Death To Freedom
16 – Last Out
17 – Torment Inside
18 – New 4th Reich
19 – From Where It Came
20 – Lifeless God
Label :
Willowtip
Dans le même style :
Phobia nous met des grosses tartes au tractopelle construit par le Grand Stratéguerre depuis déjà bien longtemps.
Je pète en quatre le suspens, direct, ce n'est pas ce Lifeless God qui va changer cet état de fait.
Alors sinon, quoi de neuf dans le camp de la Lune Noire ? La belle Vénusia, euh Calum, tient encore la basse sur la plaque mais n'est pas en photo à l'intérieur, remplacée par ce gros pabo de Leon Del Muerte. Important hein ?
La prod bien que particulièrement claire, pour le genre, transforme ce dernier bombardement nucléaire en une arme de pulvérisation massive avec dans le viseur : l'espèce humaine et un de ses représentants les plus gerbant du moment, Trump, mal en point sur la pochette.
Le Ranch du Bouleau Blanc (The White House dans la version anglaise) subit ainsi les assauts d'une Soucoupe amirale : Cornofulgure, Astérohache et autre Fulguropoing font rire les Grindeux ricains. Les 20 armes utilisées par le combo sont bien plus terrifiantes.
En vrac, on pourra retenir le LaséroFistFuck de la première attaque, le SauvageoKassebouche de "Killed It", le GrindoClassico de "Intimidator", le MidTempoEcraso de "Devotion" avec son surplus de SoloMetalo mais surtout le FugassoMélodico du fantastiquement destructeur "Everything Vicious".
Ici, les Furax touchent de leurs poings cloutés le CrustoSwedishoInferno, fabriquant une salve traversant n'importe quel blindage.
Lifeless God est un Golgoth défonçant l'Antirak de Ben Actarus Carson, le réduisant à la condition d'un distributeur de capotes.
La Patrouille Des Aigles devra retourner à la base, voir le Prof Donald Procyon pour réparation.
Mais l'histoire se terminera mal pour le « gentil» défenseur de la civilisation à la bannière étoilée. Shane The Pain Minos lui a déjà éclaté les os au professeur et a mangé Jared Mizar Kushner pour son quatre-heures.
Note des commentateurs : 7/10 (sur 1 votes)
Commentaires
Sa note : 7/10
sepulturastaman le 04/07/2017 à 10:55:58
Oui enfin sinon c'est du Napalm Death quoi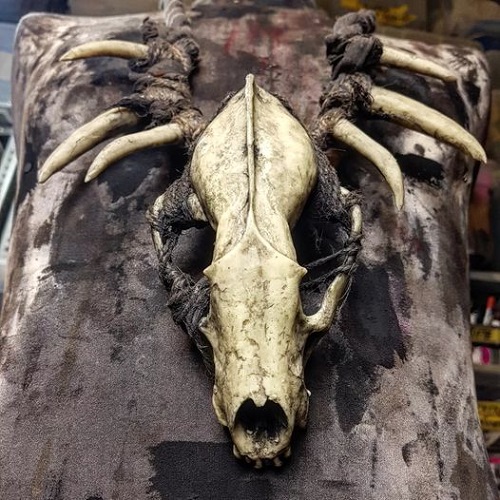 Crom-Cruach le 04/07/2017 à 13:10:44
Euh... j'ai jamais pensé à ND en écoutant Phobia, perso.
Ajouter un commentaire
Pseudo : e-mail :
Commentaire :
NOTE : Vos commentaires sont soumis à la lecture et à l'approbation des modérateurs. S'ils trouvent que votre message n'a pas à apparaitre ici, il sera supprimé.