écouter "The Misfits"
Style musical :
Grind Crust
Année :
2018
Tracklist :
01. Privileged
02. The Misfit
03. Stressed Mess
04. Harvester of Boredom
05. One Hit Wonder
06. Nutrition
07. Slaves of Lust
Label :
Season Of Mist
Chroniques :
Cycles (2008)
Napalm (2010)
Species at war (2013)
Abuse To Suffer (2016)
Suffer To Abuse (2018)
Dans le même style :
Bon, on est d'accord, la pochette du bouzin est sérieusement pourrave.
Mais comme en matière de tohu-bohu, il vaut mieux se fier au ramage plutôt qu'au plumage, nous ferons fi des atours de ces Finlandais.
Car Rotten Sound niveau curage de fosse septique, sont championships.
Vérification en live faite, y'a peu : bouh you you.
Son swed to the death pour des Finlandais quoi (Ecoute-moi ce "Stressed Mess" mudafuckaz), rage dedans, propos politique, Suffer to Abuse ne déroge à aucune règle édictée par le combo depuis un ptit moment déjà. "Privileged" se fait d'entrée ultra groovy (et pas funky) avec son intro de diplodocus et le reste digne d'un T-Rex. Jurassic Claque.
On crust alors plus sur la surface qu'on grind dans les angles et ça leur va comme un gland.
Ami de la poésie barre-toi et celui du c'était mieux avant, ouvre-toi les veines aussi. On est trop sur la planète de toute façon.
Car le groupe est dans une forme misanthropique parfaite. "Harvester Of Boredom" envoie donc un boucan démontrant que le batteur est un fada. Niveau prod, là, un Néandertalien, aussi. Un vrai.
Les pénibles évoquées plus haut ("T'vois moi j'p'préfère Drain") trouveront cependant enfin leur compte de Bordel In Grind avec "One Hit Wonder."
Mais c'est définitivement la puissance de la "Nutrition" qui domine. Oui, une alimentation équilibrée c'est important. Selon les grandes marques.
En sept titres, les Finlandais écrasent leurs ennemies, les voient mourir devant eux et entendent les lamentations de ta mère.
Commentaires
Xuaterc le 06/09/2018 à 20:16:11
Rotten Sound, des fils de Crom?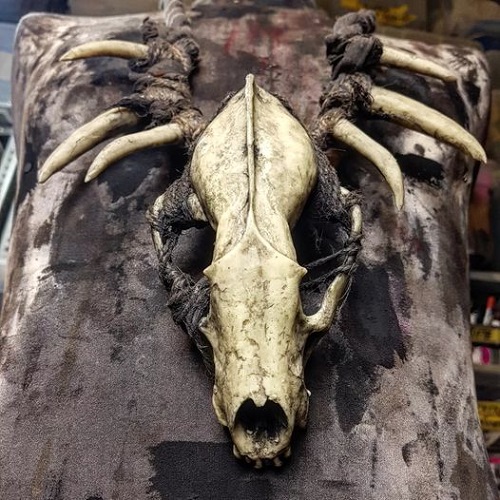 Crom-Cruach le 07/09/2018 à 16:30:26
OUI: tant qu'il y a du noir, y'a de l'espoir.

Ajouter un commentaire
Pseudo : e-mail :
Commentaire :
NOTE : Vos commentaires sont soumis à la lecture et à l'approbation des modérateurs. S'ils trouvent que votre message n'a pas à apparaitre ici, il sera supprimé.