Sticky Boys

- Calling the Devil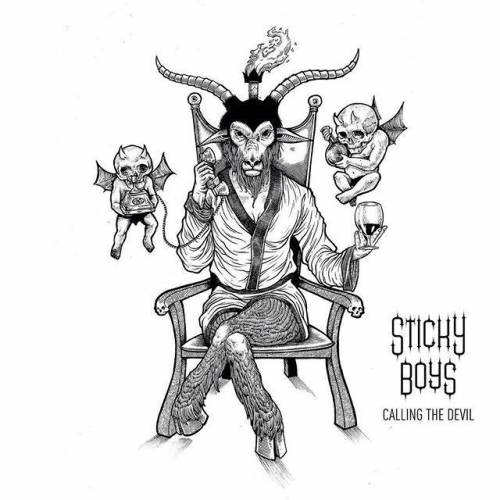 Style
hard rock
Label(s)
Listenable
Sortie
2017
écouter "Good Morning Sunshine"
C'est ça le rock'n'roll, après avoir fait de l'art, on appelle le Diable... mais on est toujours le même trio qui aime Sylvie et les trains... Toutefois nos Sticky arrivent à changer tout en restant les mêmes.
Oui Sticky Boys c'est avant tout du hard rock mais c'est de plus en plus varié... tout ça sans mettre de rap, de samples, d'electro, ni même d'arrangements classiques. Ici on est entre hard rock classique, punk, pop punk, speed rock'n'roll... et même 2 ou 3 trucs acoustiques !
Après l'intro le trio nous montre une bonne étendue des choses qu'il sait faire : « Better days » est un hard rock, rapide et puissant, « Good Morning Sunshine » est punk rock alors que « Tough Machine » est du speed rock'n'roll motörheadien... Si « The lonely tree » revient vers un hard rock teigneux, la doublette « The Vision » (qui est plutôt un interlude d'ailleurs)/ « An Afternoon in the park » vise du côté acoustique, le second ayant même un côté hispanisant et western. On va aussi lorgner du côté pop punk avec 2 chansons de suite (« Ready to go » et « The dog is going out » avec sa fin lente un peu inutile). On aurait pu avoir une fin tout en efficacité avec notamment le coup de poing « Real people » mais le morceau pop acoustique « Drifting away » est bien léger et guère passionnant, au milieu de 4 autres morceaux.
Les Sticky sont un peu plus qu'égaux à eux-mêmes avec ce troisième album en osant plus de variété qu'à l'accoutumée, parfois de façon un peu maladroite mais l'album est suffisamment copieux pour ne pas leur en tenir rigueur. Et de toute façon ça leur donne encore un prétexte pour aller écumer les scènes de France et de Navarre, leurs terrains de jeu favoris !
Calling the Devil est disponible en CD digipack et en vinyle blanc.
---