écouter "The Day After"
Style musical :
D-Beat premium quality
Année :
2002
Tracklist :
Conflicting Ideas
Call To Arms
Vengeance
Recurring Nightmare
Beginning Of The End
The Lure
Night Falls
The Day After
War Within Us
Revengeance
To The Dogs
No Words
Label :
Tragedy Records
Dans le même style :
Deux ans après leur toute première salve sauvage, les frères Burdette accèdent au panthéon des Grands du Crust avec une plaque au nom parfaitement adaptée.
Tragedy ne prône pas ici l'amour et le pardon. Et en plus, pour eux, l'espoir est la laisse de la soumission. Nihilistes les Ricains ? Non, juste désabusés à l'extrême.
Mais plutôt que de pleurnicher dans leur coin en devenant gothiques ou pire en faisant du BM, ils ont choisi un autre camp.
Le camp des vocaux corrosifs où les chants de Billy et de Todd sont au diapason de la férocité, se télescopant comme deux cabots enragés.
Le camp des paroles réfléchies, conscientes mais affreusement déprimantes.
Le camp des compos abasourdies de riffs saturés de vitesse mais toujours emprunts d'une tristesse sous jacente où parfois la mélodie d'un lead s'extrait. Dans cette constante guerre des nerfs, se cachent, alors parfois, des breaks qui ne passeraient nulle part ailleurs comme sur "No Words".
Et quand parfois, les poings se calment, essuyant le sang et le fiel les maculant, cela donne aussi "Night Falls", d'une pesanteur suffocante.
"The Day After" pourrait résumer en un seul morceau tout ce qui rend unique ce combo. Une ambiance de fin du monde où l'ultime acte serait de cramer ses dernières cartouches pour réclamer VENGEANCE.
VENGEANCE contre toutes les saloperies que nous font bouffer les experts.
VENGEANCE contre les voleurs d'innocence.
VENGEANCE contre ceux qui se torchent avec la morale.
VENGEANCE pour les dissidents torturés. Les vrais, pas ceux divinisés par les hoax.
A l'heure où un nouveau timbré accède à la toute puissance, par la grâce de la merveilleuse démocratie, et en attendant d'avoir notre propre inquisiteur bien français, cette plaque de Tragedy est plus que jamais d'actualité.
Commentaires

cglaume le 12/02/2017 à 18:06:57
Mais mais... C'est presque mélodique, presque poignant ton "The Day After" !!??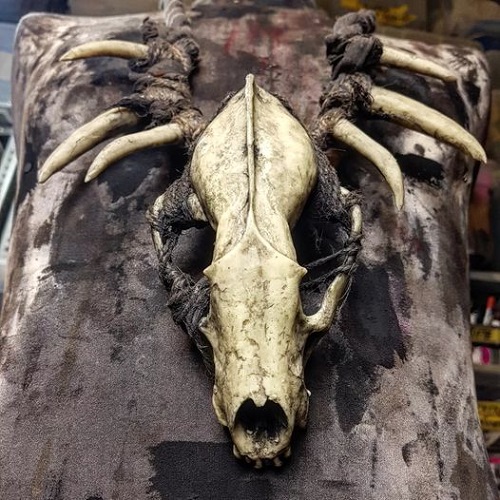 Crom-Cruach le 12/02/2017 à 18:08:41
C'est juste énorme oui.
Ajouter un commentaire
Pseudo : e-mail :
Commentaire :
NOTE : Vos commentaires sont soumis à la lecture et à l'approbation des modérateurs. S'ils trouvent que votre message n'a pas à apparaitre ici, il sera supprimé.