COREandCO radio S06E03 - avec interview Seeds of Mary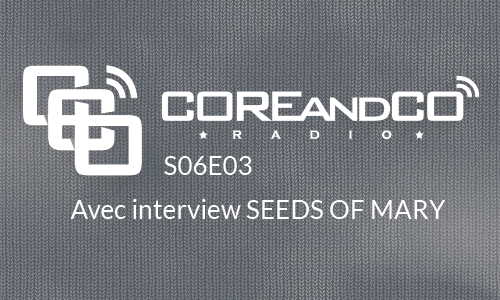 Dans cette 3e émission de la saison, apparition d'une rubrique que l'on espère faire régulièrement dans les prochaines : une interview de groupe !
En plus de votre programme habituel, à savoir des excellents titres musicaux issus d'articles provenant du webzine COREandCO, vous aurez donc une interview du groupe français Seeds of Mary, réalisée par Margoth lors d'un concert à Caen le 1er novembre dernier (d'ailleurs, si vous souhaitez lire l'interview au format texte, rendez vous sur la page de l'interview de Seeds Of mary publiée sur le webzine).

Sinon, musicalement, durant cette heure on aura du rock, du heavy, du doom, du black metal, du hardcore, et autres joyeusetés.
Bonne écoute !
Tracklist :
Miserable - Pain Farm
Gouge Away - Ghost
Viagra Boys - Down in the basement
Flayed - Fairy Tale
Seeds of Mary - This is where it hurts
The Dawn - I bet you like Botch, bitch
Terror - Spirit of sacrifice
High on fire - Electric Messiah
Karv du - Transfigured writing
Alice Cooper - Gutter cats vs. the jets