Finch

- Say Hello to Sunshine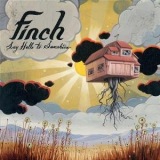 Label(s)
Drive Thru records
Lieu d'enregistrement
???
Après « What is it to burn » le premier opus de Finch sorti sur le label américain « Drive Thru » voici « Say Hello to sunshine ». Finch a un peu vieillit mais les musiciens ont toujours moins de 20 ans pour la plupart. Le style a vraiment évolué. Ils passent d´un métal Rock rapide, lourd et très mélodique influençé par « Blink 182 » à un métal teinté de Hardcore dont les influences prestigieuses sont à l´écoute « Glassjaw », « Faith No More » ou « Dilinger Escape Plan ». La mélodie a encore une place centrale et les passages agressifs le sont plus par la musique et sa tonalité que par une voix hyper saturée et agressive. C´est dans l´essence de ce groupe que d´être hyper mélodique, dixit le seul et unique : « And I´d die for you » de la chanson « Brother bleed brother ».
Les structures sont bien menées tout est moderne et inspiré. Si on compare les deux albums on trouve cet album plus adulte pas forcément plus mature artistique car « What is it to burn » était déjà un petit bijou à ce niveau.
Le packaging est très stylé, le chanteur : Nate Barcalow étonne par sa technique, sa matuturité, que de bonnes surprises dans ce finch. Groupe à suivre ! ! Qu´est ce que va donner leur troisième album ? ? ? C »est la question que je me pose depuis que j´ai découvert « Say hello to Sunshine » frère bâtard mais non moins réussit et exellent que le génial mais un peu ado « What is it to burn » .
---