The Accidents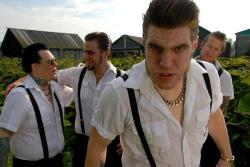 LINE-UP
D. Vaccum - Voc/Guitar ..
Fred Tank - Bass ..
Ric Rebel Jennings - Drums
Retrouvez ici toutes nos chroniques, actualités, interviews, reports de concert, ainsi que la discographie et le line-up du groupe The Accidents.
Biographie
The Accidents est un groupe ou artiste suédois, chroniqué 1 fois sur le webzine.
Style musical pratiqué, en quelques mots : punknroll.
Chroniques
Retrouvez ci-dessous notre chronique de The Accidents.
Interviews
Il n'y a aucune interview du groupe The Accidents actuellement.
Live-reports
Il n'y a aucun report de concert du groupe The Accidents actuellement.
GROUPES / ARTISTES dans les styles de The Accidents
Voici des groupes qui pourraient vous plaire si vous aimez The Accidents.

Suède
Discographie
One Of A Kind (7") - 2002
Cisse (7") - 2004
Performing Three Spectacular Hits (7") - 2004
Dead Guys (7") - 2004
Let's Go Out Tonight (7") - 2005
Hot Hot City (7") - 2007
Summer Dreams (CD) - 2007
Frutti Di Bosco (7") - 2009
Stigmata Rock 'n' Roll - 2009
Liens