Driving the salt

- The Ghosts stopped watching
Label(s)
Striving for togetherness records
Lieu d'enregistrement
???
Driving the salt nous vient d´Allemagne en Bavière. Après un premier 4 titres autoproduit datant de janvier 2002, The Ghosts Stopped Watching est leur toute dernière livraison. Ce cd est produit par Togetherness records. Driving the salt semble inspiré de la scène punk underground des années 80 avec une petit touche moderne.

Driving the salt nous balance donc un Hardcore mélodique bien pensé. Riffs relativement simples mais efficaces, une voix assez agressive mais pas forcément criée, on aime ou n´ aime pas. Tout ceci est très bien réalisé. Les parties mélodiques et la voix chantée permettent de souffler un peu entre les passages punk hardcore assez rapides. Alors parlons un peut maintenant de l´Artwork, personnellement je n´ai pas trop accroché à la couleur bleue de la pochette, mais pour ce qui est du contenu, c´est vraiment très soigné.

Aucun doute que les amateurs du genre devraient largement y trouver leur compte, à ranger près de Strike Anywhere même si Driving the salt est quelque peu plus agressif.
CD album (30 : 54)
Tracklist
01. the tyrants are still not dethroned
02. the ghosts stopped watching
03. aftertaste
04. death of a generation
05. schinabeck & walinowski
06. robotnics
07. 9/11 runners
08. i hate the kids
09. sputnik shock
10. the dawning of the days when darkness starts to prevail
DANS LA VEINE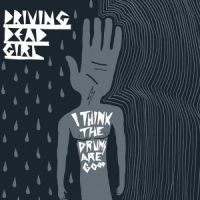 Driving Dead Girl - I Think The Drums Are Good
---