Gum

- But Woman Monkey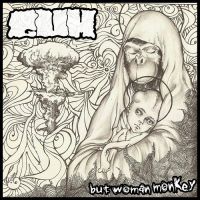 Style
Sludge
Label(s)
Subversive Way, Gheea Music et Boue records
Sortie
2013
écouter "But woman Monkey"
Iron Monkey est mort, vive Iron Monkey. Le Sludge lui, est toujours bien vivant. Poisseux, certes, puant, surtout, mais vivant. Suintant, gras et malsain, rejeton avarié d'Eyehategod, Sourvein ou autres Negative Reaction, GUM sort de son marécage pour nous envoyer du gros riff baveux de zombi comme on aime.

Sludge: avec un "S" comme dans "seringues", "sueur" et "syphilis". GUM : avec un G comme dans "goudron", "gravier" et "graisse". Pas besoin de s'appesantir en superlatif, la musique du combo parle d'elle même. Ça riff dur, ça frappe salement, ça boit beaucoup et ça nous refile tout un tas de MST. Vous pouvez remballer vos oreilles ou vous préparer à vomir si la recette huile de vidange et sang de vierges du combo ne satisfait pas vos tympans délicats.
On baigne ici en plein viol auditif, bande son parfaite pour un nouveau film de Toxic Avenger. On en déterrerai presque le cadavre de grand-mère pour en récupérer les dents en or afin d'en tirer juste de quoi se faire un dernier short. Pour sortir la tête de l'eau et éviter l'overdose, un peu de groove rappelant les excellents débuts de Church Of Misery (la basse de fin dans "Scimmia" ou l'intro de "Universe") et on peut se laisser mourir sur le bitume brûlant après le passage de ce But Woman Monkey.

Plus groovy qu'un Pyramido ou qu'un Grief mais moins crust qu'un Charger, moins sombre qu'un Lazarus Blackstar; GUM fait un parfait cocktail entre Iron Monkey et Church Of Misery des premiers albums et fait parler le riff et le groove en priorité. Et on en demande pas plus tant ils réussissent l'exercice avec brio.

Avec Grime et Dopethrone, un des groupes de sludge actuels à suivre avec la plus grande attention.
---