The Meteors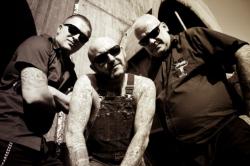 LINE-UP
P.Paul Fenech 666 (chant, guitare)
Simon (The Prince) Lindon (contrebasse, basse, choeurs)
Wolfgang Hördemann (batterie, choeurs)
Retrouvez ici toutes nos chroniques, actualités, interviews, reports de concert, ainsi que la discographie et le line-up du groupe The Meteors.
Biographie
The Meteors est un groupe ou artiste anglais, chroniqué 2 fois sur le webzine.
Style musical pratiqué, en quelques mots : psychobilly, rockabilly.
Chroniques
Retrouvez ci-dessous nos 2 chroniques de The Meteors.
Les 1 dernières actualités pour The Meteors
Interviews
Il n'y a aucune interview du groupe The Meteors actuellement.
Live-reports
Il n'y a aucun report de concert du groupe The Meteors actuellement.
GROUPES / ARTISTES dans les styles de The Meteors
Voici des groupes qui pourraient vous plaire si vous aimez The Meteors.
Angleterre
Discographie
In Heaven 1981
Wreckin' Crew 1983
Live I 1983
Stampede 1984
The Curse Of The Mutants 1984
Monkey's Breath 1985
Sewertime Blues 1986
Live II - Horrible Music For Horrible People By This Horrible Band 1986
Teenagers From Outer Space 1986
Don't Touch The Bang Bang Fruit 1987
Encores 1987
Live And Loud 1987
Night Of The Werewolf 1987
Only Meteors Are Pure Psychobilly 1988
The Mutant Monkey And The Surfers From Zorch 1988
Teenagers From Outer Space 1989
Undead, Unfriendly And Unstoppable 1989
Live III - Live Styles Of The Sick And Shameless 1990
Live I and Live II 1991
Madman Roll 1991
Demonopoly 1992
Live IV - International Wreckers 1992
Who Do You Love? 1992
Wreckin' Crew 1993
No Surrender 1994
Live, Leary And Fucking Loud 1995
Mental Instrumentals 1995
Corpse Grinder - The Best Of The Meteors 1995
Graveyard Stomp (The Best Of The Meteors 1981-1988) 1995
Welcome To The Wreckin' Pit 1996
In Heaven 1996
International Wreckers II - Lost tapes of zorch 1996
Bastard Sons Of A Rock 'n' Roll Devil 1997
Live III - Live Styles Of The Sick And Shameless 1997
Undead, Unfriendly And Unstoppable 1999
From Zorch With Love 1999
John Peel Sessions (1983-1985) 1999
Night Of The Werewolf 1999
Sewertime Blues / Don't Touch The Bang Bang Fruit 1999
Stampede / Monkey's Breath 1999
The Mutant Monkey And The Surfers From Zorch 1999
The Meteors Vs. The World pt. I 1999
The Meteors Vs. The World pt. II 1999
Psychobilly Revolution 2000
Wreckin' Crew 2000
The Meteors Vs. The World 2000
Psycho Down 2001
Bastard Sons Of A Rock 'n' Roll Devil 2001
Anagram Singles Collection 2001
Live III - Live Styles Of The Sick And Shameless 2001
The Final Conflict 2002
Wreckin' Live 2002
Wreckin' Crew 2003
Psychobilly 2003
From Beyond 2003
Hell In The Pacific 2004
These Evil Things 2005
Hymn For The Hellbound 2007
Hell Train Rollin 2009
Doing The Lord's Work 2012
The Power Of 3 2016
Liens