The Bombs Of Enduring Freedom

- The Bombs Of Enduring Freedom
Chronique CD album (42:31)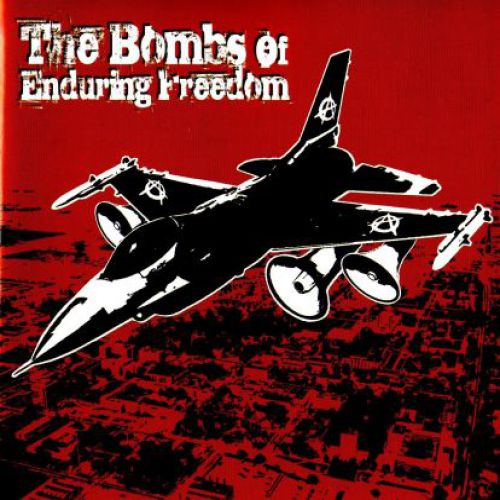 Style
Industrial Metal, Drum and Bass/Dub
Label(s)
Death to Music
Sortie
2006
Lieu d'enregistrement The Council Flat of Mass Destruction

écouter "G.I. Jesus"
Un jour, en plaisantant, pour décrire The Bombs Of Enduring Freedom sur le forum de COREandCo, j'ai écrit « True anti-american reptilian conspirationist electro industrial drum'n bass metal ». Même si c'était sur le ton de l'humour, c'était aussi une bonne description de sa musique. Projet du très occupé James Fogarty, qui s'était illustré sur le premier album de The Meads Of Asphodel, puis dans Ewigkeit, le musicien laisse libre court à sa détestation de l'administration américaine. On a là dans le domaine un sérieux concurrent à Al Jourgensen. Pour mémoire, Enduring Freedom est le nom de l'opération militaire de « libération » du peuple irakien lancée par Bush Jr.
Mécontent de l'évolution musicale de Ewigkeit et dégoûté par l'industrie musicale, l'anglais saborde son groupe et fonde Death To Music, un « anti record label », en mettant en scène la destruction de tous ses contrats discographiques (voir ici) pour repartir sur de nouvelles bases. 100% DIY, Mr. Fog prend tout en charge, l'enregistrement de tous les instruments, le mix, le mastering, la distribution, l'artwork et l'hébergement de la version digitale.
Musicalement, on peut rapprocher ce premier effort au dernier album à l'époque d'Ewigkeit Conspiritus, avec une grosse louche de drum'n'bass. On pense parfois à Pitchshifter ou à Prodigy. Imaginez des beats d'n'b avec une grosse basse toute en rondeurs sur lesquels viennent se poser des riffs influencés par le death/doom anglais de la fin 80's, début 90's, et des claviers électro, le tout saupoudré de nombreux samples d'émissions de TV ou de radio. Ces derniers occupent d'ailleurs tous les silences en particulier entre les morceaux, ce qui donne l'impression d'écouter un programme radiodiffusé sur la seconde guerre d'Irak. Le son global est synthétique en restant chaud, en adéquation avec la musique.
Les vocaux sont clairs, puissants et naturels, mettant des mots sur la critique de l'impérialisme américain, qu'il soit militaire (« Guantanamo Bay International, « it's Auschwitz in the sun... »), culturel (« Television ») ou politique (« Identity Theft »). Le tout agrémenté d'une bonne dose de conspirationnisme, on sent bien que le type porte sur le monde un regard à la fois désabusé et très éclairé.