The Jeffrey Lee Pierce Sessions Project

- The journey is long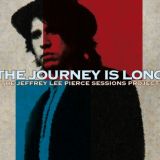 Style
Rock
Label(s)
Glitterhouse Records
Sortie
2012
Initiative de Cypress Grove, bassiste du défunt Jeffrey Lee Pierce, The journey is long fait suite à We are only riders, paru en 2009 et qui consistait déjà en des relectures, par la crème du rock actuel, d'un recueil de relectures de l'ex Gun Club s'appliquant à des morceaux inédits ou non-terminés du légendaire artiste.
Sur dix-huit titres, du bluesy et fiévreux "City in pain" signé Nick Cave à "Ain't my problem baby" que le Jim Jones Revue cingle de sa rage habituelle, il s'agit là d'un quasi sans fautes et d'un superbe hommage, les essais inachevés de Lee Pierce trouvant dans ces nombreuses créations une véritable naissance. En outre, le casting est de choix et le panel large, Bertrand Cantat faisant même logiquement partie de celui-ci (avec Pascal Humbert, Warren Ellis et Cypress Grove, ni plus ni moins) pour un "Rose's blues" hanté que son chant, habité, valorise parfaitement.
Ailleurs, sur une série assez bluffante, on peut se délecter du rock racé de Steve Wynn ("From death to Texas"), d'un superbe duo Lanegan/Campbell ("The breaking hands") ou du rock'n'roll tranchant de Vertical smile sur "Book of love", entre autres réussites incontestables. Un autre duo, alliant Nick Cave et Deborah Harry, magnifie à nouveau "The breaking hands", tandis que l'égérie cold Lydia Lunch s'approprie "The brink" pour en faire une oeuvre à la fois sombre et majestueuse. Varié, souvent passionné, l'album allie titres aboutis et découvertes artistiques significatives, ce qui le rend d'autant plus captivant, et incite à de nombreuses écoutes au bout desquelles point le désir, d'une part, de se replonger dans la "disco" du Gun Club et, d'autre part, de se lancer dans l'exploration, ou la réécoute, de ce que font les différents intervenants.
Superbe opus donc, à mille lieues des hommages inégaux régulièrement sortis sur le marché.
---