The Saints

- King of the sun
Chronique CD album (86:35)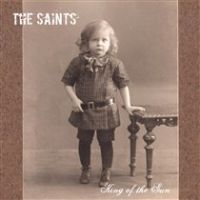 Seizième album studio des Saints, premier album depuis six ans; l'évènement est bien évidemment marquant et pour le coup, Bailey et consorts surprennent par un contenu apaisé mais majestueux, agrémenté de quelques pièces plus tendues ("Duty"). Le panel instrumental est étendu, le propos élégant et gentiment déviant (l'excellent "Road to oblivion part 2") et le début du disque nous met sur la voie d'une pop étincelante, au ressenti certain ("King of the sun" puis "A million miles away", alertes et légèrement assombris, qui inaugurent parfaitement l'oeuvre ici décrite), qui valorise le premier volet de King of the sun, que suit un second cd incluant neuf des standards du groupe.
Avant cela et le plaisir de revenir aux merveilles rock de The Saints, d'autres compositions feront leur effet, dont "All that's on my mind" et l'avanant et teigneux "Mini mantra part 1", de même que le superbement acoustique "Adventures in the dark arts of watermelonery", enjolivé à l'harmonica, qui conclura le premier volet du cd.
Pour parfaire l'écoute, Songs from the Stash présente une série de morceaux-phare des Saints, entre "Just like fire would" et "All fools day" et "Massacre" ou encore "Ghost simps", ces deux derniers à l'énergie débridée mais encore une fois élégante venant étayer avec efficience les autres réalisations, plus directement "pop". Avec pour conséquence de générer un rendu de haute qualité, sensible mais jamais dénué d'énergie et d'inspiration, qui honore donc les Australiens et leur permet un retour remarqué.