Extreme Cherokee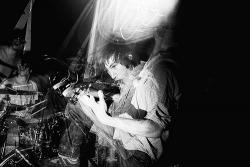 LINE-UP
# Robin - Lead screaming vocals, lead melodie vocals, backing vocals, keyboards, lyrics and spiritual vibrations.
# Damien - Stereophonic rythm guitars, stereophonic lead guitars, backing vocals, riffs and harmonic heroism.
# Nicolas - Lead kick drums, snare drums, tom alto, floor tom, hi = hat (closed AND open), cymbals and sticks, gameboy, backing vocals, double kick symphonies.
# Guillaume "Mallard" - Heavy rythm bass guitar, heavy lead bass guitars, lead backing vocals, sound effects, heavy metal fashion
Retrouvez ici toutes nos chroniques, actualités, interviews, reports de concert, ainsi que la discographie et le line-up du groupe Extreme Cherokee.
Biographie
Extreme Cherokee est un groupe ou artiste , chroniqué 1 fois sur le webzine.
Chroniques
Retrouvez ci-dessous notre chronique de Extreme Cherokee.
Interviews
Il n'y a aucune interview du groupe Extreme Cherokee actuellement.
Live-reports
Il n'y a aucun report de concert du groupe Extreme Cherokee actuellement.
Discographie
- "Spirit Horse of the Extreme Cherokee" (2007)
Liens