Life Of Agony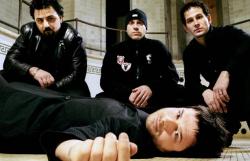 LINE-UP
Keith Caputo : Chant
Joey Z : Guitare
Alan Robert : Basse
Sal Abruscato : Batterie
Biographie
Life Of Agony est un groupe ou artiste américain, chroniqué 3 fois sur le webzine.
Style musical pratiqué, en quelques mots : metalrock, alternatif, relents, crossover, métal.
Chroniques
Retrouvez ci-dessous nos 3 chroniques de Life Of Agony.
Interviews
Il n'y a aucune interview du groupe Life Of Agony actuellement.
Live-reports
Retrouvez ci-dessous notre report de concert de Life Of Agony.
GROUPES / ARTISTES dans les styles de Life Of Agony