Napalm Death

- The Code Is Red ... Long Live The Code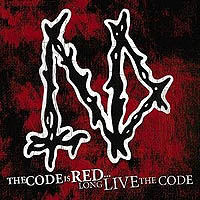 Label(s)
Century Media
Sortie
2005
Continuons notre tour d'horizon de la discographie du géant Napalm Death (groupe du mois de décembre 2006)avec son avant dernière galette sortit l'an passé: The Code Is Red...Long Live The Code. Sous ce nom à rallonge se cache le premier album du groupe sans Jesse PINTADO (RIP) après la sortit en 2004 du deuxième volet de la compilation Leaders Not Follower.

Et c'est un album absolument dantesque qui vous attend là: une prod' énorme, une dynamique des morceaux sans précedents, des guests en veux tu en voilà, des morceaux cultes; bref en un mot une BOUCHERIE !!

Ca commence très fort avec "The Silence Is Deafening" (le silence est assourdissant) qui porte bien son nom et qui donne d'entrée la tonalité de l'album: ca va blaster, et il va y avoir de la mosh et surtout des parties bien dansantes!
On retrouve dans cet album des morceaux purement grind digne de Napalm tout simplement qui raviront les fans de la première époque: "Right You Are", "Diplomatic Immunity", "Pay For The Privilege Of Breathing !" ne dépassant pas les 2minutes.
Le petit plus je vous le disais plus haut, c'est que cet album a son lot de guests pas piqué des hannetons: Jamey JASTA (HATEBREED) qui vient gueuler sur "Instruments Of Persuasion" et "Sold Short", Jeff WALKER (feu-CARCASS entre autres) sur le très malsain "Pledge Yourself To You", et le must du must Jello BIAFRA (Dead Kennedys) sur le tube de l'année "The Great And The Good" hymne punk monstrueusement efficace !
Ajoutez à cela un titre bonus "Loser" fantastique d'energie, ainsi qu'un couple lent et malsain "Morale" et "Our Pain Is Their Power" presques doom; vous obtenez un album qui traversera le temps sans jamais lassez l'auditeur (sans aucun doute l'album que j'ai le plus écouté dans toute ma discographie)

Bref il n'y a pas besoin de s'eterniser plus sur ce disque qui est une blasterie sans nom et qui débouchera les esgourdes de tout les détraqueurs du meilleur groupe de grind de tout les temps. Pour fan's de Napalm Death assurément, ce The Code Is Red... à été fait avec le coeur et avec les tripes, alors pour ce premier disque sans Pintado, on lui verse une petite larme et on remet la galette en route en headbangant sauvagement comme des dégénérés... Longue vie à toi Napalm Death !
---