Melvins

- Smash The State EP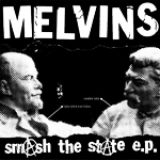 Style
Speedy Hardcore
Label(s)
Amphetamine Reptile Records
Sortie
2007
écouter "Smash The State"
CANADA BUZZ HAS A WAY TO SEE THROUGH MY EYES

Pour une vraie-fausse discographie des MELVINS - Chapitre 38 -

Suite des mini-chroniques autoritaires de sorties Melvinsiennes spéciales/formats courts, etc.

Ils auraient voulu se payer la tête du Punk-Hardcore, ils auraient pas fait mieux. Attention, c'est bien de ça qu'il s'agit: Punk, Hardcore. Sauf qu'on a l'impression d'en entendre une version cartoonée, speedée gonzalée, irrévérencieuse et branleuse. Tant mieux.

Très attachant petit EP (livré avec un CD 9 titres, regroupant tous les 7'' spéciaux de la tournée 2007) qui passe très vite : hop !, un chips, je me rouvre une bière, c'est déjà fini. Ça transperce tout, à fond, à fond, à fond, mec, maîtrise totale, c'est le Texas Punk qui gagne la guerre, solo de mandoline en brassard et nique ta race de blanc de merde. Les morceaux se ressemblent (à part le dernier, Post-Punk au cerveau troué, bien drôle) mais qui s'en branle? Haze XXL, boss de AmRep tabasse la basse et fait des voix, les Melvins reviennent à leurs premiers amours et se foutent de leur gueule.
Z'avez bien raison, les gars, continuez!

Du très bon, espèce de sale Punk, si t'as encore un peu d'humour au fond de ta cannette d'Oberlager.
---